The Hawaiian islands are a land of tropical paradises, natural beauty, and fun and entertainment for all ages. But much of the entertainment native to Hawaii can't be enjoyed by young children. Snorkeling, surfing, and other beach activities aren't likely the best option for kids. Some remote beaches can't even be accessed without long, grueling hikes that most children won't be up for, and the hikes are often too challenging for children.
Fortunately for families, children can find entertainment in most places. The concern is rarely entertaining, but ensuring safety. Every member of the family will enjoy a Hawaiian vacation, and fortunately for families, Hawaii offers many "Baby Beaches," which are suited specifically for children and void of any wild fire twirlers or safety threats.
---
What to Look For in a kid friendly beach
To get started, it's important to know what you are looking for in a kid-friendly beach. A beach that is safe for children will have water that is on a flat or gradual entry, and with water that has sections that remain shallow enough to allow children to wade without any threat.
Avoid High Tides and Large Surfs
Beaches that have high tides or surfs aren't good options. The last thing you want is for your toddler to be hit by a wave while they are wading in the water. So while these sort of beach options may be best for family members who want to surf, look elsewhere for young children who will be in danger with surf-specific waters.
Look for Easy Access
Search for locations with easy access. Many of Hawaii's beaches are accessed after long hikes and force visitors through difficult terrain. Though these beaches may be enjoyable, opting for an easy access beach that doesn't force children through treachery is a much better option.
Find a Beach with Bathrooms and Outdoor Showers
Beaches you choose should be equipped with bathrooms and outdoor showers. This will make life easier on any family that doesn't have to worry about where their young ones will perform their necessary, after the beach clean-up duties.
Find Some Shade
Beach locations that are equipped with shade will make life much easier. Here you won't have to worry about kids getting too much sun, and since we all know the sun makes one tired more quickly, kids will keep enough energy to make it through the day. Besides, we all want a little bit of shade every now and then on our beach days.
Longer and Wide Beaches are Better for Play
The longer and wider a beach is, the more room children will have to run around and play. The best locations have play areas near water that isn't deep, where kids can wade safely, and they have quick access to the water and the land.
These areas allow families to enjoy games, a quick meal on the shore, and relaxing time without any interruption from mother nature.
Local Stores and Vendors
You'll be especially thrilled if you find a beach that has local stores and vendors. If you forget anything at the hotel, want a quick snack or meal, and need access to goods and supplies, being located close to these essentials will make life much easier.
---
Kid-Friendly Beach Options
Po'ipu Beach Park
The Po'ipu Beach Park on the island of Kaua'i is one of the best location for children. This beach is located on the South Shore of the island. The location offers three separate beaches, which makes it a coveted spot for tourists. If you're traveling with a large group, here everyone can meet their needs.
Brennecke
Brennecke, one of the beach options, is a body-surfing beach. On the east end of the central cove, kids can find their "Baby beach" where they even have the option of watching wild chickens look for food crumbs. Endangered animals like Hawaiian Monk seal and Green Sea Turtles have also been spotted on the beach. Po'ipu beach is sure to fill the needs of every family, especially those who have both older and younger children.
Kaanapali Beach at Maui
The Kaanapali Beach on the island of Maui is one of the most popular in Hawaii, and this beach frequently makes the list of best beaches in all of America. Here visitors will find a four mile stretch of sand and paved paths to walk. Most of the resorts on the beach are designed with kids in mind.
Spencer Beach Park
This beach, located on the Northwestern Coast of Hawaii's Big Island, will truly delight visitors. Here the sands have a gentle slope that is safe for children, and families will be able to see Green sea turtles and other animals.
This location also offers the perfect camping destination for families who want to give their kids an overall experience of the nature that is home to Hawaii. If you have any inclination of camping with children while in Hawaii, Spencer Beach Park is your location.
Kikaua Point Beach
The Kikaua Point Beach is a perfect destination for children and families. Here families will enjoy white sand that is surrounded by lava rocks, palm trees, and plenty of shade. The beach also has a grass lawn that provides plenty of space to relax, and one of the coveted features of any beach a family will visit, shade.
The water on the Kikaua Point Beach is slow and soft, giving kids the perfect opportunity to play. Even better, for avid golfers, the Kukio Golf Course is located directly next to the beach.
Hapuna Beach State Park
This state park is located on the Kohala Coast of Hawaii's Big Island, and it is one of the largest white sand beaches in Hawaii. Visitors will enjoy sand that slopes gently into the water, small surfs, and a clear ocean.
If you have older children, they'll enjoy bodyboarding at the beach when the waves are moderate. Hapuna Beach is also located near the Mauna Lani Resort and the Mauna Kea Beach Resort, so a perfect location for families who want to stay near the beach. Hapuna Beach State Park as even been voted the Best Beach award from Conde Nast Traveler magazine in years past.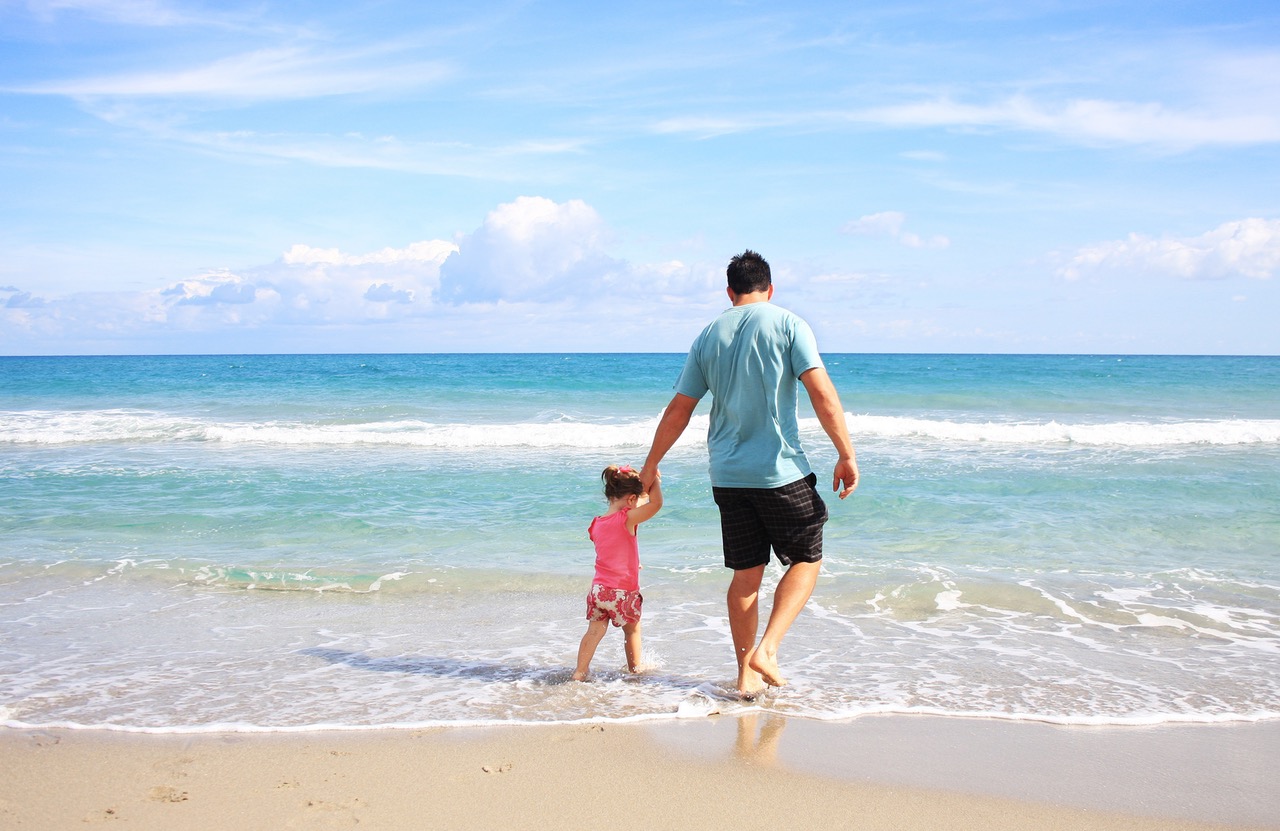 ---
Remember the Basics
What's most important when choosing beaches for your kids and family is to choose a beach that has a low surf, gentle waters, and a shore that slowly heads towards the water so children have areas to play and wade in the water.
The other factors listed above will help ensure that families enjoy their time at the beach, but most of all, the safety of children should be the first priority. An option that gives every family member something they enjoy might be the best route, but whatever you choose, it's hard to go wrong with any of the beaches on the Hawaii islands.
Families with older children will have a few more beach options, but many locations will suit all of your family's needs. Having "Baby Beaches" at many locations makes life even easier for parents, and helps ensure that you will be able to get the most out of your Hawaii vacation no matter which beach you choose. With so many options in Hawaii, it's likely your family will end up opting to see as many beaches as possible during your stay.