---
Places mentioned in this article: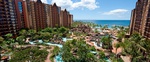 The Aulani Disney Vacation Club Villa is a world-renowned and beloved Disney Vacation resort in Ko Olina, Hawaii, on the island of Oahu. The resort features sought after amenities, dining, recreation, and the tropical paradise of the island of Oahu.
The swimming pools, beach activities, dining and entertainment are only the beginning of the pleasure and paradise available at this resort. Not to mention, guests will also be joined by many of their favorite Disney characters and other attractions.
Guests from around the world travel to the Hawaii islands specifically to visit this resort, and for good reason. Here's what they have to look forward to.
---
A Look at Aulani Amenities

The Rainbow Reef
The only manmade and private snorkeling location on all of Oahu is located at Aulani. The Rainbow Reef is home to Angel Fish, Butterfly Fish, and Tangs. Guests can also visit the aquarium-like fixtures and see various aquaculture from behind glass walls.
AMA AMA
If you're headed to the Disney Resort but don't want to miss out on some of the local delicacies native to the Hawaiian islands, this is the place for you.
AMA AMA is an open-air venue that overlooks Ko Olina Beach. The restaurant is open for every meal of the day, and visitors can indulge in popular island cousine. All the ingredients are fresh and seasonal. It'll be difficult to find a visitor who isn't thrilled with both the food and the scenery at AMA AMA.
Aunty's Beach House
It is not possible to visit a Disney resort without some Disney magic and entertainment for the kids. Both are present at Aunty's Beach House. Here kids will get a glimpse of Hawaiian culture, art and music, all mixed in with Disney themes.
Aunty's Beach House is recommended for children aged 3 to 12. The Beachouse is 5,200 square-feet, and activities will include storytelling exhibits, special souvenirs, a Disney movie room, game tables, arts and crafts from local Hawaii, a backyard with play amenities, and even a closet full of costumes so kids can play dress-up. Simply know that all children that visit do need to be registered and potty trained.
KA WA'A - A Lu'au at Disney
As soon as guests arrive on the Hawaii islands they'll be expecting the tradition of a lu'au taking place at some point in their trip.These are native events to the Hawaiian islands, and essentially beach parties that are a cultural celebration of Hawaii.
Guests of the Aulani Disney Resort don't have to worry, they will also have their chance to participate in a lu'au. The Lu'au at Aulani will include activities, live music, a feast inspired by local cuisine, and much more. This is a must experience event during your stay at Aulani.
Note to Non-Hotel Guests
Interested visitors should know that since the resort is a hotel, no day passes are available. All of the amenities, including pools, beach equipment, and other activities are only available to guests that stay at the resort. Day guests are only allowed to enjoy dining, shopping, and the spa at Aulani.
About Transportation:
There aren't any Uber's this far out on the island, and taxi cars are just as expensive as renting a car, so if you are concerned about transportation, the best solution is to rent a vehicle.
---
History of the Aulani Hotel and Resort
Aulani is part of the Disney Vacation Club, and it is the third Disney Vacation Club Resort that is located outside of a Disney Theme Park property.
The resort officially opened in Aug. 29, 2011, and it was initially estimated to cost $800 million, while providing 1,000 or more jobs at the resort.
The resort was created by the Walt Disney company and Hawaii based architects to ensure that customs and traditions from Hawaii were included at the resort. What's most unique, unlike Disney theme parks where characters like Mickey and Minnie Mouse act as hosts, at the Aulani resort they act as fellow guests.
---
Spotting Disney Easter Eggs
Throughout the resort, Disney has left various Easter Eggs, which are clues to be found, that are reminiscent signs of the Disney brand. These add an exciting element for fans of all ages. If you don't know the eggs are present, you'll be thrilled to find them, and if you know beforehand, you'll be excited to look out for them. We'll show you a few, but maybe you can find even more easter eggs during your stay.
Ka Maka Grotto Pool
On the far west side of the resort lies the Ka Maka Grotto infinity pool. Here visitors will find recordings of whale sounds, and various parts of the pool light up.
This pool is near Aunty's Beach House, which will light up with a magic "skylight" that shows birds and leaves, and every now and then, Stitch from the famous Disney film based in Hawaii, "Lilo and Stitch."
Familiar Tunes in the Elevators
As you travel throughout the hotel elevators, you  will hear some very familiar Disney tunes playing overhead. For a nice added detail, every tune will also be played using ukuleles.
#2447
Remember, #2447 Is Your Lucky Number.
Anytime you want to find out where Disney characters are for their daily photo opp, simply dial #2447 through the hotel line and you will be informed.
---
The Perks of Aulani
Aulani is an ideal destination for both children and family. The children will be enthralled with the various odes to Disneyland that are present throughout the island, and they will be thoroughly entertained with the activities that have been created just in mind for children.
There are many locations on the island, including Aunty's House where parents can leave their children and attend other amenities while the kids play. Parents will enjoy lounging, dining, and experiencing the adult-themed portion of the resort. The resort is likely ideal for children aged 12 and below, those who will still really enjoy Disney attractions without having outgrown them.
Don't Forget to Stop by the Gift Shop
One of the favorite attractions for both families and guests will be the Aulani gift shop. Here customers will find a large collection of favorite disney merchandise, and even a section for Hawaiian clothing.
Remember, You're Still on Oahu
Like we mentioned, taxi cabs are expensive, and Ubers are not available at this part of the island. But this shouldn't deter you too much, because if you want to travel, you still can, and you're still on Oahu. Just remember to rent a car for your excursions.
Though Aulani is far from many other attractions on the island of Oahu, if you have access to a vehicle, families can still make the trek to other locations. Locations include the popular Waikiki Beach, Kualoa Ranch where "Jurassic Park" was filmed, and the Pearl Harbor Memorial. All of these are within access for families willing to make the trek, which we recommend if you've made the trip out to Hawaii.
Otherwise, Aulani is the premiere resort for those who want to combine their trip to Hawaii with some Disney magic. Aulani will supply fun for the whole family, and provide much of the excitement that we are all accustomed to in Disney films. Be sure to give Aulani consideration when you plan your next trip to Hawaii.