Passing through North Shore on a Summer day, you can usually find people lined up at the world famous Matsumoto Grocery Store. What kind of treat can you expect to find in your white paper cone at Matsumoto Shave Ice? Well, shave ice – and notice, it's not called shaved ice – is pretty much what it sounds like: ice that was shaved off an ice block. These delicate ice shavings are combined with unique syrup flavors to create a wonderful and refreshing dessert. At Matsumoto, you can order up to three flavors per shave ice treat. It is important to note that shave ice treats are different from snow cones, which are made with crushed ice.
---
The Origins of Shave Ice
The tradition of shave ice comes from Japan, where it's called kakigōri. The treat has been around since at least the 12th century. During Japan's hot months of the year, kakigōri is sold at coffee shops, restaurants, convenience stores, and festivals. Japanese immigrants who came to Hawaii brought their kakigōri recipes with them.
In Japan, kakigōri is often served with ice cream, azuki beans, or tapioca pearls. Azuki beans are red beans boiled in sugar, a traditional ingredient in East Asian desserts. These traditions have all migrated to Hawaii, along with the snow cap, which is sweetened condensed milk (or sometimes evaporated milk) poured over the top of the shave ice after the syrup.
---
Flavors of Shave Ice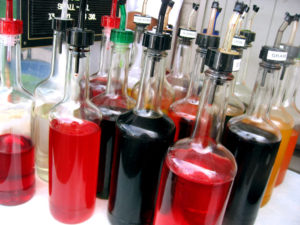 Shave ice syrup flavors often come in the local fruit flavors of Hawaii, such as coconut cream, guava, kiwi, li hing mui (pickled plum, which is known for its sweet, salty, and sour taste and commonly in powder form), lychee, mango, passion fruit (known locally as lilikoi), and pineapple. Another popular flavor is yuzu. Yuzu is a sour Japanese citrus fruit, and yuzu syrup is traditionally sweetened with honey. At Matsumoto Shave Ice, you can also order your shave ice with a syrup flavored like Ramune, a lemon-lime Japanese soda whose name is derived from "lemonade."
The classic Matsumoto flavor combination is lemon-pineapple-coconut. Another iconic favorite (one pictured on some of the shop's merchandise) is the rainbow combination, which tastes like strawberry, lemon, and pineapple.
"Shave ice" is the more common term, but on the Big Island of Hawaii, you might also hear it referred to as "ice shave."
---
History of Matsumoto Shave Ice
Matsumoto Shave Ice is a Hawaiian institution located at 66-011 Kamehameha Highway #605 in the Oahu North Shore village of Hale'iwa. The store is open from 9 a.m. to 6 p.m. every day of the year except Christmas, Thanksgiving, and New Year's Day.
The shave ice store began on February 13, 1951 as M. Matsumoto Grocery Store. Mamoru Matsumoto was born in Honomu, Hawaii in 1908 into a family that originally came from Hiroshima Prefecture in Japan. When Mamoru was a child, his family returned to Japan. He worked several odd jobs, but still found it difficult to make ends meet. Mamoru and his brother decided to go to Hawaii to find work.
Mamoru started out as an agricultural laborer on a plantation in Hawaii, but eventually he became a salesman for the Sakai Store. At night he took classes to learn math and English. He married Helen Momoyo Ogi, who was born in Hilo, Hawaii into a family that originally came from Yamaguchi Prefecture in Japan. Helen Momoyo worked as a seamstress.
With his experience as a salesman, Mamoru was eventually given the opportunity to buy the Tanaka Store from Mr. Kazuo Tanaka, and the M. Matsumoto Grocery Store was born. Helen Momoyo worked the counter (and occasionally did some of her sewing there) while Mamoru made delivers on his bicycle until he could afford a box truck. The couple's business grew as they raised their children Glenn, Janice, and Stanley. Stanley joined his parents in the grocery business.
By that time, they had already decided to sell shave ice. They originally charged five cents for a small and ten cents for a large. The rise of surf culture in the early 1960s brought in waves of new tourists who gradually began to discover the pleasures of shave ice. Word of mouth spread the Matsumoto name far and wide until the store became a destination for travelers arriving on Oahu.
Helen Momoyo passed away in 1989 and Mamoru in 1994. Today, Stanley and his wife Noriko own and operate Matsumoto Shave Ice, which sells over a thousand shave ice treats a day. The store also sells t-shirts and other merchandise. In 1976, the Matsumotos had some t-shirts made up for family use. When customers kept asking to buy the t-shirts, they decided to sell them. Eventually, t-shirts and souvenir merchandise replaced the store's canned goods and groceries.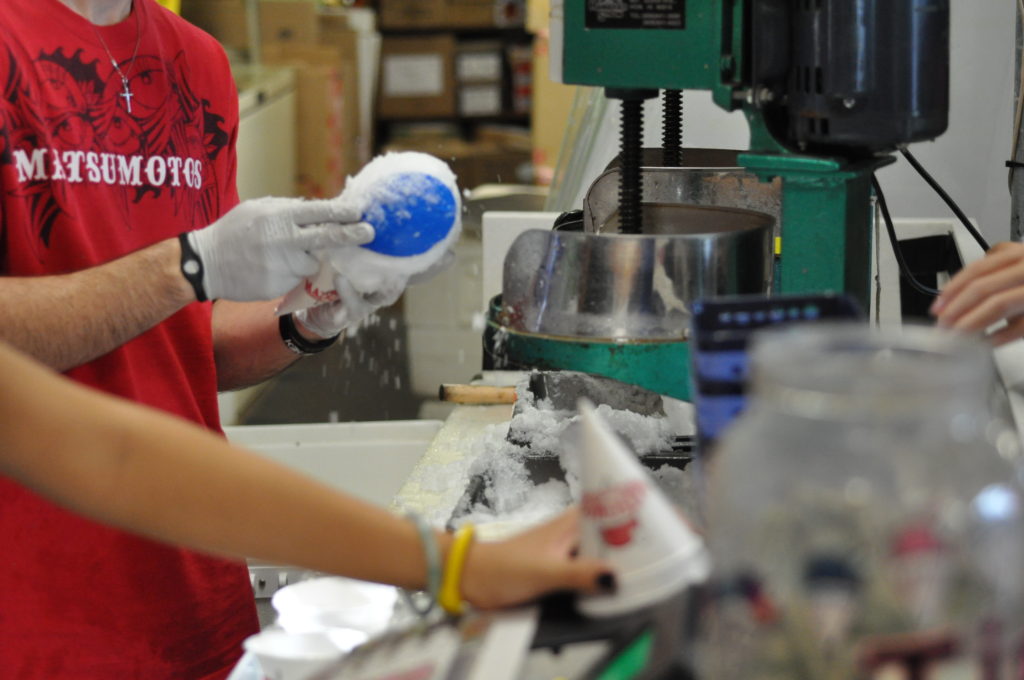 Stanley and Noriko Matsumoto are often asked if they'd like to branch out and create a chain of Matsumoto Shave Ice franchises, but they've always declined. Matsumoto Shave Ice has also been a local-centered, family-run business, and it will likely always stay that way. If you want the authentic Matsumoto Shave Ice experience, you have to visit the one and only grocery store building at 66-011 Kamehameha Highway #605.